06/07/04 Simi Valley police shoot coyote suspected in child attacks
SIMI VALLEY, Calif. – Police shot to death a coyote they believe attacked four children, including a 3-year-old who was hospitalized with bites to his neck, face, head and ear, authorities said Monday.
….snip….
Officers were first summoned to a home where witnesses said boys ages 2 and 3 were attacked as they played in their back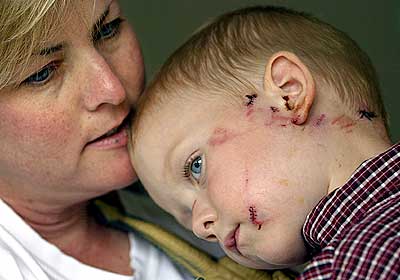 yard. The coyote bit one of them on the right ankle and the other on the left ankle before neighbors chased it away, May said.
The animal then surfaced a few blocks away, where it scratched a 7-year-old boy on the ankle.
While searching the area for the coyote, the officers got a report that it had surfaced again, near Canyon View Drive, where it grabbed a 3-year-old boy by the head and attempted to drag him away.
The officers located the animal and opened fire after it threatened to attack them, May said. It was struck by two bullets. Read the full account here. One boy, Weston Field, while on his porch, was bitten on the face, ear, neck, hand and head by the coyote.